April 12 2012, (Updated 2018) Catfish and Aquatic Apes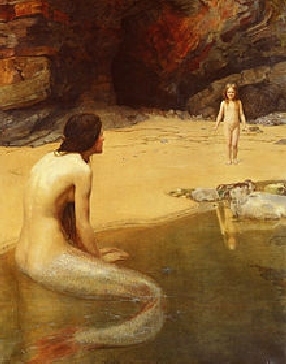 The Land Baby by John Collier 1899

Besides being shapeshifters like cephalopods, the Nummo were described as being a type of catfish with barbs or whiskers on the jaw.Dorey, Day of the Fish p. 29 According to the Dogon, the first humans, who were part Nummo, were not only hermaphrodites but they also lived as a type of catfish and breathed through their clavicles. The Mistress (Master) of Speech, who was the saviour in the Dogon religion, was supposed to be evidence of the genetic modifications that had occurred in the respiratory system that permitted humans to breathe air when they emerged from the waters of the womb.Dorey, Day of the Fish p. 151
When describing the human fetus, the Dogon said that when the human child was in the belly of its mother, it was like a fish that breathes with its gills, but the moment the child was born, it began to breathe with its tonsils. The shape given to the tonsils was like the head, eyes and barbs of the fish.Dorey, The Nummo p. 255 Although the Mistress of Speech looked human above the waist, below she had a fishtail. Her daughter Lébé, became the mother of all present day humans. The 1899 painting entitled, The Land Baby, by John Collier (above) reminds me of this aspect of the Dogon religion and how humans became land dwelling creatures.Dorey, The Rose: Dogon Star Knowledge p. 412
In The Nummo and Day of the Fish, I discuss this Dogon belief in relation to the aquatic ape theory of evolution. Sir Alister Hardy first wrote about his belief that the reason humans were so different from chimpanzees and apes was because they had spent time living in a semi-aquatic state. His paper, Was Man More Aquatic in the Past? appeared in New Scientist, 17 March 1960. The same idea was independently arrived at by the German scientist, Max Westenhoffer, who had been the first to publish such an account in 1942 in Der eigenweg des menschen (The Road to Man [Humanity]).Dorey, The Nummo p. 256
In 1982, Elaine Morgan popularized this theory in The Aquatic Ape, based on Sir Alister Hardy's 1960 theory. According to geneticists, human and chimp DNA is 99.4 percent identical. Chimps are so close to us, in fact, that some scientists believe they should be sitting on our branch in the tree of life. About six to eight million years ago, two groups of apes became separated. The aquatic ape theorists claim that our human ancestors were forced by climate change to live in an aquatic environment and, thanks to the changes associated with that environment, became more advanced than chimpanzees. Afterward, when the environment changed back again, they evolved back into land dwelling creatures.Dorey, Day of the Fish p. 152
There are various elements of the human body that support the theory that our ancestors once lived in an aquatic environment. Because humans are so closely linked to primates, there is the question of how humans ended up being hairless. According to Morgan, "humans lost [heavy body hair] for the same reason as the whale and dolphin and the manatee: because if any fairly large aquatic mammal needs to keep warm in water, it is better served by a layer of fat on the inside of the skin than by a layer of hair on the outside of it." She also points out the overwhelming disadvantages of hairlessness for a ground-dwelling ape. "In the first place, body hair, besides being a highly efficient insulator against both cold and heat, serves as a protection against various kinds of lesions."Dorey, The Nummo p. 256
Humans also have some voluntary control over their respiratory system, whereas most other land mammals have no conscious control over their breathing. Aquatic mammals inhale as much air as they need for a dive, then return to the surface to take another breath. Morgan points out that human babies are able to swim not just before they are able to walk, but before they are able to crawl. "Babies in their first year of life appear to be quite as happy with their heads under water as above it."Dorey, Day of the Fish p. 153 During the first year of their lives, they have an inborn reflex that stops them from breathing during short spells underwater, so no water can get into their lungs. "Compared with all other monkeys and apes the human baby is born 'too heavy' relative to the weight of the mother." This happens to no other primate fetus. Morgan says this make sense if you are "launching the newborn infant into a watery environment."Dorey, The Nummo p. 256
There are various other differences that she discusses in her book including the fact that humans are the only mammals whose normal method of locomotion is walking on two legs. This bipedalism she attributed to human ancestors having lived in water. According to the Dogon, these changes had more to do with the Nummos' genetic engineering experiment than with human evolution.
Stories about mermaids exist all over the world. In the middle of the 14th century, a mermaid was put on the Warsaw coat of arms. This may have been due to the fact that in 1573 the city gave its name to the Warsaw Confederation and formally established religious freedom in the Polish-Lithuanian Commonwealth. I believe that beliefs about the Nummo were known all over the world at one time but were suppressed in many places by the Roman Catholic Church and the Inquisition. Here is a coat of arms of Warsaw dating from 1652, which appeared on an accounting book of the city.http://en.wikipedia.org/wiki/Mermaid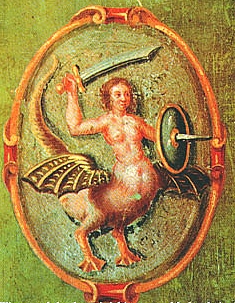 1659 Warsaw Coat of Arms
It shows a breasted mermaid with a serpent-fishtail, wings and duck's feet. According to Wikipedia,
claimed sightings of dead or living mermaids have come from places as diverse as Java and British Columbia. There are two Canadian reports from the area of Vancouver and Victoria, one from sometime between 1870 and 1890, the other from 1967. In some of the earliest accounts of Blackbeard's sail logs in the BBC documentary Pirates, he instructed his crew on several voyages to steer away from charted waters which he called "enchanted" for fear of merfolk or mermaids, which Blackbeard and many members of the crew reported seeing and documenting.http://en.wikipedia.org/wiki/Mermaid
In August 2009, in the town of Kiryat Yam in Israel "dozens of people reported seeing a mermaid leaping out of the water like a dolphin and doing aerial tricks before returning to the depths." In 2012, "work on two reservoirs near the towns of Gokwe and Mutare in Zimbabwe stopped when workers refused to work there, claiming that mermaids had hounded them away from the sites. The claim was reported by Samuel Sipepa Nkomo, Water Resources Minister."http://en.wikipedia.org/wiki/Mermaid
I find these reports particularly interesting in lieu of what is known of the Nummo and Nummo Ancestors.

Please email your comments to me at:
sd@themasterofspeech.com.